My mother is "KARREN", born in 1933.
Spred to the world from Roppongi, Tokyo.
It's indispensable to make eye zone beauty.
About this Brand
Since its launch in 1997, "AVANCÉ" has become an essential brand to make eye-zone beauty.
Mother of AVANCE Inc. as sales agency, is Hollywood Beauty Salon founded in 1925.
Hollywood is also the well-established cosmetic manufacturer. They opened a cosmetics factory in 1935, and released a first mascara made in Japan in 1937.
In addition, the root of the "LASH SERUM" series, must-have item of the "AVANCÉ" brand is "May Ushiyama KARREN". And the "KARREN" is the first "eyelash and eyebrow growther" in Japan, launched in 1933.
---
The original two items as "LASH SERUM" and "BROW SERUM" were launched, its elegant package design to produce a luxurious feeling more than the price. So It was intended to draw the clear line with conventional petit price cosmetics.
However, this is a fact to be confessed now, for several years after launch, sales result of "AVANCÉ" had reached a plateau because of poor visual appeal in the store caused by the very small size of the products.
But the turning point of "AVANCÉ" was a never-ending eye makeup boom rapidly spreaded from around 2000.
The women who had been troubled with eyelashes rapidly increased, too. And the main trouble such as fallen and broken eyelashes similar to hair were caused by excessive using eyelash curler and mascara.
---
In addition, the spread of the Internet became a following wind for "AVANCÉ".
Together with a high evaluation in the social cosmetics website such as "@cosme", the fact "AVANCÉ" had been originally developed with advanced technology by Hollywood cosmetics as well-established manufacturer was appreciated in the market.
At last "AVANCÉ" achieved the position of necessity and top brand of eye zone care when its high quality and certain effect were recognized,
Currently, product lineup of "AVANCÉ" is expanding with complete items such as mascaras, liquid eyeliners, pencil eyeliners, eye zone care serums, of course including the eye lash serums needed to produce an attractive eye zone.
And now, "AVANCÉ" establish the firm position of total eye makeup and eye zone care brand more than 15 years have passed since first launch.
Of course, they continue to improve package design, easy to buy, easy to choose and luxurious feeling at she same time to be right for the self-selection stores.
And now, "AVANCÉ" win a certain support and high confidence overseas as an eye zone specialized brand "Made in Japan".

First 2 items of "AVANCÉ" and May Ushiyama "KARREN"
Added Value
Generally, the words "eye zone care" mean "skin care of the eyes" thin and delicate.
However, "AVANCÉ" was focused the indispensable two parts in order to impress eye zone, eyelashes and eyebrows. It started with two items of "LASH SERUM" and "BROW SERUM".
In 1990s, girls fashion style called "Amurer" and "KoGal" was swept through Japan.
Most of the Amurer pulled out their eyebrows under the influence of "Narrow Eyebrows" boom. And they will fully realize loss own eyebrows after few years.
Most of the KoGal likes anything new enjoyed santan and very hard and irregular makeup such as using stationeries. And they will fully realize damaged skin when they have to graduate from KoGal.
The rumor of AVANCÉ" spread among them by word of mouth as very good news.
2012, it became the 15th anniversary of the birth of "AVANCÉ" brand, brand-new mascara "LASH SERUM in MASCARA" was launched as the consumer's perspective product.
It contains ten times as many amount of eyelash essence as "LASH SERUM" series in order to meet the conflicting demands that treat eyelashes as very valuable treasure around eye zone while enjoying eye make-up.
---
What is the greatest added value of "AVANCÉ" ?
First, history and technology with a background as a eye zone specialist.
Second, always continuing to develop the products specializing in eye zone with consumer research.
And the final, it has been recognized and supported as a brand to be able to use it with confidence in a wide range of age groups by giving a high quality not to betray the trust of the consumers.
The high reliance has been accumulated over more than 15 years since birth is the dearest treasure.
There are many following products after "AVANCÉ". However, no one will acquire the same thing in a very short time.
Products Gallery (Eye Zone Care)
Products Gallery (MATSUEKU Protect)
Products Gallery (HOLLYWOOD MASCARA)
Products Gallery (Eyeliner)
Products Gallery (Eyebrow)
Products Gallery (Mascara)
Products Gallery (Base Makeup)
Catalog Images (Eye Zone Care)
AVANCÉ LASH SERUM EX
AVANCÉ LASH SERUM EX Trial Size
AVANCÉ LASH SERUM N
AVANCÉ Eye Zone Care (3 items)
AVANCÉ DOU DEMAQUILLANT SUPER
Catalog Images (MATSUEKU Protect)
Catalog Images (HOLLYWOOD MASCARA)
Catalog Images (Eyeliner)
AVANCÉ Joli et Joli et Liquid Eyeliner Deep Color
AVANCÉ Joli et Joli et Creamy Eyeliner
AVANCÉ Joli et Joli et Liquid Eyeliner (2019)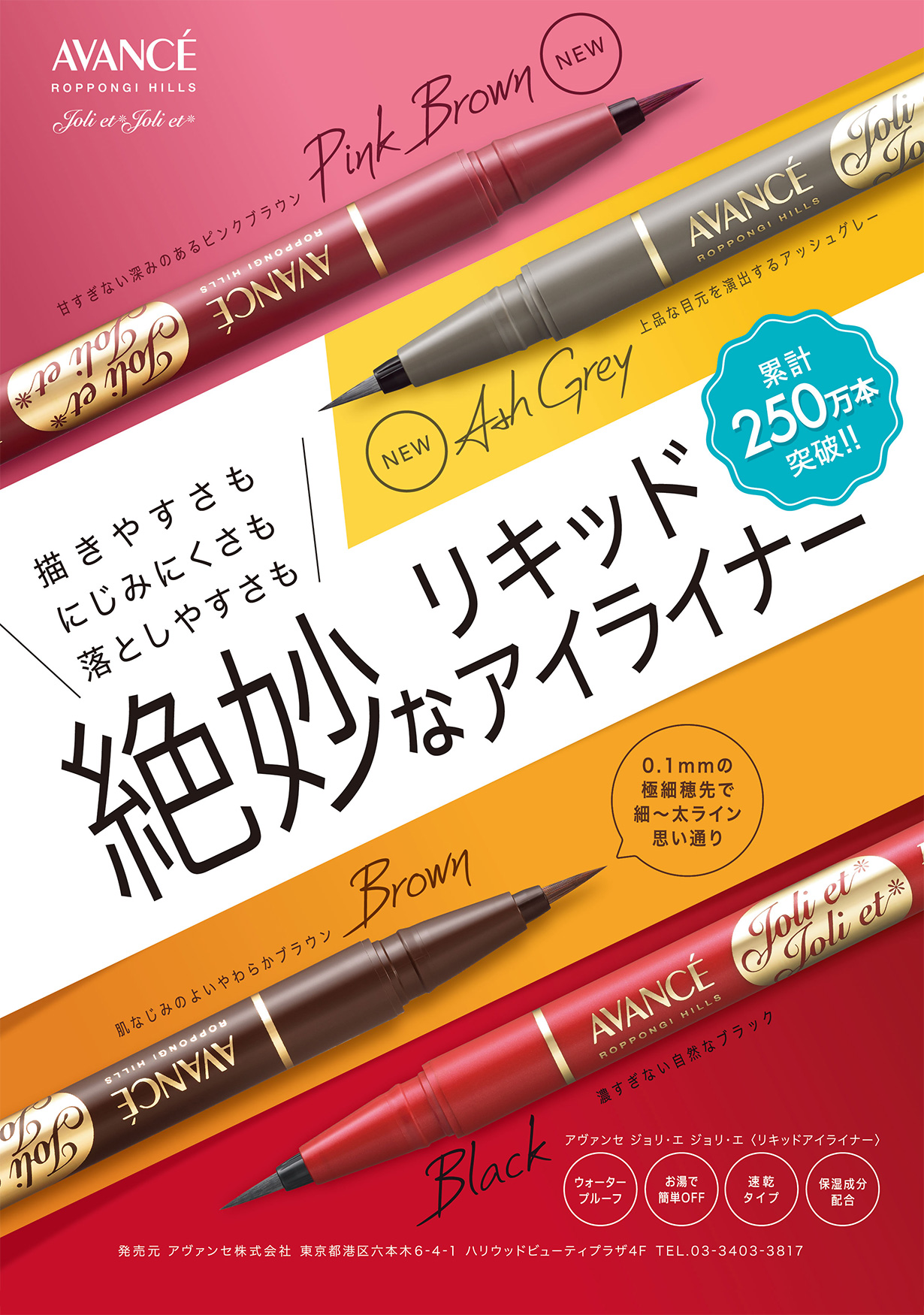 AVANCÉ Joli et Joli et Liquid Eyeliner NAVY & Bordeaux
AVANCÉ LASH SERUM in EYELINER
Catalog Images (Eyeblow)
AVANCÉ Joli et Joli et 2Way Eyebrow Liquid Tint & Powder
AVANCÉ Joli et Joli et 2Way Eyeblow
Catalog Images (Mascara)
AVANCÉ LASH SERUM in MASCARA
Catalog Images (Base Makeup)
AVANCÉ Joli et Joli et Liquid Concealer